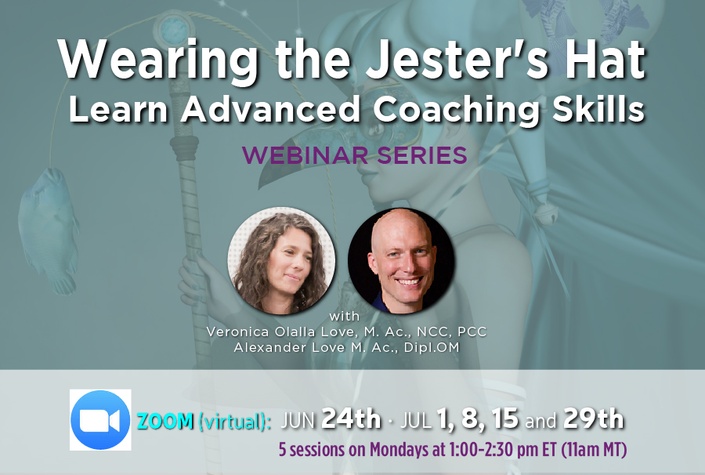 Wearing the Jester's Hat
Learn advanced coaching skills to deeply transform yourself & your clients
Join your peers & embody advanced coaching skills to better serve your clients!
Join us for five Mondays: June 24 - July 29.

Each session is 90 minutes, starting at 1 pm ET/11 am MT/10 am PT.
Coaching is an embodied art form that requires an ever-expanding deep dive into the subtleties of presence and dialogue. As coaches, we have the opportunity to cultivate these subtleties in a way that turns "okay, good enough sessions," into "knock your socks off" coaching.

But how?
How do we build upon our existing coaching skills and discover what it takes to be a masterful coach?
The answers don't live in books.
They live in your heart...as treasures to be discovered and developed.
Join us for a five-part, live webinar series where you will join your peers in a shared journey of deep cultivation, inquiry, and discovery. For the first time ever, Newfield's Global CEO, Veronica Olalla Love, will join forces with Alexander Love to co-facilitate a powerful exploration into the heart and soul of coaching. Through live presentations and interactive exercises, you will go beyond intellectual learning and discover deeper dimensions of your own path of mastery.

You will also be invited to a special Facebook Group only for members of this course. It will be a place for you to engage with your peers and facilitators.
What is this course about?

Perception is fundamentally malleable. Yet, when it is held in place through fixation, blindness and certainty, our beliefs about self and world become reified in our lives. The Court Jester archetype embodies qualities of wild foolishness as a façade for catalyzing deeply transformative wisdom. Furthermore, the Jester affects change through unconventional and at times invisible means.
In this five-part course, you will explore new ways to invite a deeply transformative process in your life and in the lives of your clients. You will journey into the heart of the Court Jester as a force of dynamic fluidity, passionate playfulness, and facilitator of powerful transformation. Further, you will explore ontological coaching distinctions to deepen how you currently facilitate as a coach. You will learn specific embodied skills and practices that will transform how you listen and engage with yourself and others.
**If you already have an ACC or PCC, you can earn 7.5 CCEU's when you join the live sessions.
What will each session include?
Session 1: A Portrait of the Jester - Context & Discovery
In this session, we will set the context for the entire course and you will be introduced to:
The Origins of Suffering
The Illustrious Court Jester
The Jester's relevance in coaching
The Jester's approach to discovery
The Jester's principals for transformative coaching
Session 2: Becoming the Jester's Hat: Embodied Application Part 1
In this session, you will
Learn how to embody the Jester's essential qualities
Discover how to transform what blocks these essential qualities
Practice applying this to coaching conversations
Session 3: Divining the OAR Model - Triunity of Perspective & Reality
In session three, you will be introduced to one of Newfield's time-tested models typically called the OAR model. In this session, we will show you an advanced version of this model not currently taught in our programs.
In this session, you will:
Study an evolution of one of Newfield's essential models
Discover how an embodied understanding of this is at the heart of transformative coaching
Learn practices to enable deep embodiment of this profound paradigm shift
Session 4: The Art of Illuminated Perception: Embodied Application Part 2
In this session, you will:
Integrate the previous topics into an embodied approach to coaching mastery
Explore a multi-phase process leading to deep transformative shifts in perspective
Learn a simple inquiry technique to deepen insight for yourself and clients
Session 5: Weaving the Jester's Hat: Embodied Application Part 3 & Closing
In this session, you will:
Learn, practice, and build upon

our multi-phase transformative coaching process

Weave together principals from the entire course
Design practices to take what you have learned deeper after the course has ended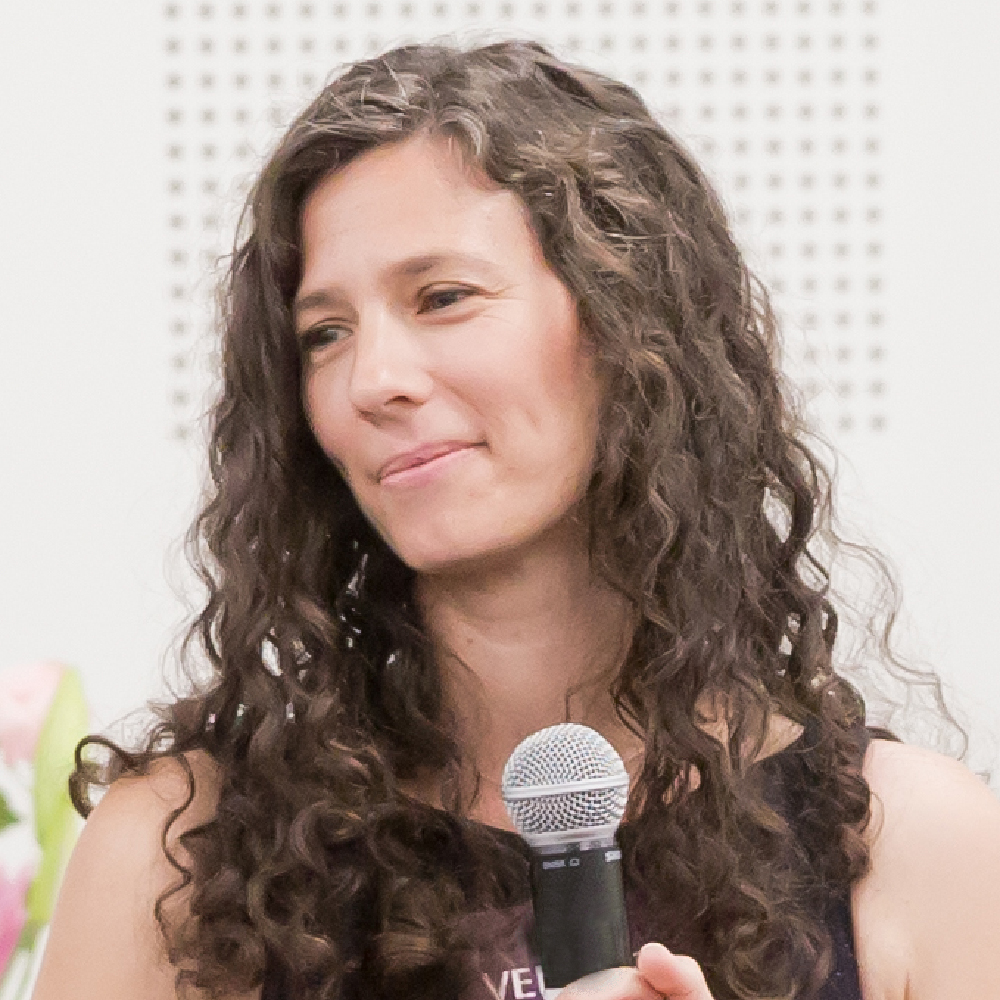 Instructor
Veronica Olalla Love, Newfield Global CEO
Veronica Olalla Love, M. Ac., NCC, PCC is the Global Chief Executive Officer for the Newfield Network. She is also an international facilitator for the Newfield Network Programs and is the lineage holder for the Newfield Network's ontological coaching tradition. In her unique and passionate style, Love invites us to remember the depth of potential we have as evolutionary beings.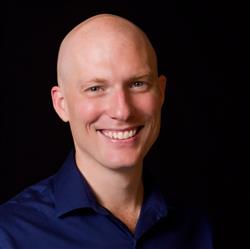 Instructor
Alexander Love, M.Ac., NCC
Alexander Love is an acupuncturist, life coach, and facilitator. With gentleness, lightness and depth, he invites us to listen to the voice of our inner wisdom & potency and allow that to move us outward into the world and make a difference.
He has worked with individuals and groups for over 14,000 life-altering hours. He has seen tremendous transformation occur with people just like you by applying all that he has learned through his own life struggles and his studies with some of the world's greatest teachers in life coaching, medicine, including acupuncture and spirituality.

Alexander has a master's degree in acupuncture from the Academy for Five Element Acupuncture. He has also trained as a coach here at Newfield and is a Newfield Certified Coach.
At the core of all of Alexander's work is his belief that the quality and health of our future depends upon our willingness to come together and deepen our capacity for human relating and discovery. Together we can learn to better face the complexities our humanity. If we can find the courage to embrace our experiences as individuals and as a greater collective, life can become something that perpetually transforms us. As we transform, so does the world, and together we can co-create a beautiful future.

Frequently Asked Questions
When does the course start and finish?
The live sessions take place over five Mondays - June 24th, July 1st, July 8th, July 15th, and July 29th. However, if you are not able to attend the live sessions or want to go back to review them at a later time, you will have lifetime access to the recordings. All recordings will be posted within 24 hours after the live session.
How long do I have access to the course?
How does lifetime access sound? After enrolling, you have unlimited access to this course for as long as you like - across any and all devices you own.
What if I'm on vacation during the session dates but really want to attend?
No problem! Everything will be recorded and you can watch all of the sessions at a later date that best suits your schedule.
How does this webinar series work?
Here is how it works: When you join the course, you will be given access to your course platform in our online learning center. In the course platform, you will find each session has its own area. This area includes the date and time for the live meeting and the link to the live event, which will be broadcast via Zoom. Any downloadable materials will also be available in each session's section. This is also where we will post the recordings.
Will I receive CCEU's for this course?
Yes! This course is worth 7.5 CCEU's if you already have an ACC or PCC. Please be aware that you must attend live to receive these CCEU's.
Note: When you register, you will also be subscribed to the Newfield Network email list and receive weekly emails with relevant and engaging content. You can unsubscribe at any time. View our Privacy Policy here.